Belts & Etc.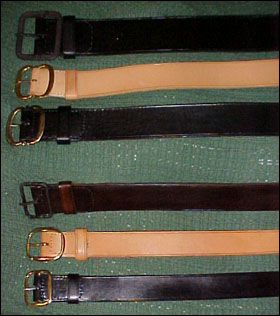 Belts - We also have a wide selection of belts to fit most folks up to a 60"waist. Maybe more if required. I cut them off the double shoulder of the hide and then size them to fit as required, they range from 1-1/2" to 2-1/2" wide with either hand forged iron or Brass buckles. Whatever is wanted. They come in black, brown and natural. $25 to 45.

Garters - These are tough, ¾" wide steer hide with solid brass oval buckles. Long enough to fit over gators and woolen leggings. My big customers say they are "human sized" Colors are black lt. and dark and brown. $15.00 / pair. We also have a smaller sized 1/2" English spur straps in black for $8.00 / pair. These make wonderful ladies or children's garters. Buckle is nickel finished.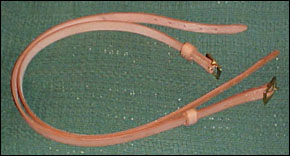 Bedroll Straps - Ever break the thongs when you are trying to tie up yer bedroll ? These will solve the problem. A pair of 36" long tooling leather belts. Natural in color and have solid brass buckles with keepers. 7/8" also make great belts for kids or small folks. $20.00 / pair.