About Us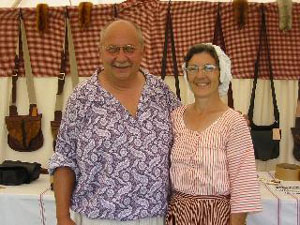 We live in East TN, about midway between Knoxville and Chattanooga on the west side of the Tennessee river on a farm with horses and other interesting critters. Located practically on the Avery Trace, we have access to many sites in the area such as Fort Loudoun, Fort Southwest Point, Wilderness Road (Martin's Station), Mansker's, and Bledsoe's Station.

After a long period of recreational living history and re-enacting (which actually started in the late 50's) we decided three years ago to make this passion a full-time endeavour.

Although skilled in many aspects such as horn making, gun building and general trading, we decided to make cordwaining our major focus.

Working in both hard and soft leathers, we have created many styles of hunting bags, portmanteaux, military accoutrements and other leather items that the serious living history enthusiast and re-enactor can be proud to own and use in their portrayal of histrorical persona.

Keeping with tradition, all of our items are hand stitched in linen thread or sinew if so desired. We use origional examples wherever possible, but may make variations on them to accomodate modern requirements.

All leather items offered by Pepe's are produced by us. Hardware and knives, horns etc displayed and sold at events are made by known craftsmen and are fully guaranteed as to workmanship. Custom orders are welcome.